Welcome to Tripoura Center:
An Ideal Place for Workshops, Seminars, and Conferences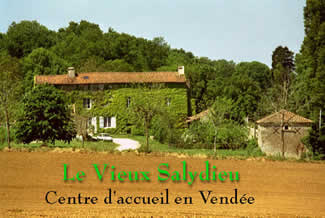 Accommodations Include:
A 15th Century rustic lodge in a pastoral setting near the River Lay, completely renovated along with its accompanying outbuildings and gardens.
A spacious and well-lit conference room (100 m2). DVD player. Thick removable carpet. Tables, yoga mats, meditation benches.
Sleeping accommodations for approximately twenty persons, semi-private dormitory style, with additional camping area and three double private rooms also available.
Our healthy and delicious meals are, whenever possible, freshly prepared from our own organic "mandala" garden, maintained for the past 30 years. We provide a full spectrum vegetarian menu that can include eggs and dairy, vegan, and raw living foods. We will be happy to work with your group to provide for your particular dietary needs.
Our centre is located approximately 30 kilometers from such seaside resorts as Les Sables d'Olonne, and La Tranche sur mer, and offers many interesting local attractions including La Puy du Fou, The Cathedral of Luçon and The Court d' Aron Lotus Gardens.

Prices per person per day, including meals:
5 persons, big room (3 rooms): 55.00 € (euros)
double room (3 rooms): 62,50 €
Camping: 5 € reduction per day
Sheets rental : 5.00 €
Conference room rental:110.00 € per day
Kitchen rental ( if you come with your own cook): 20.00 € per day per person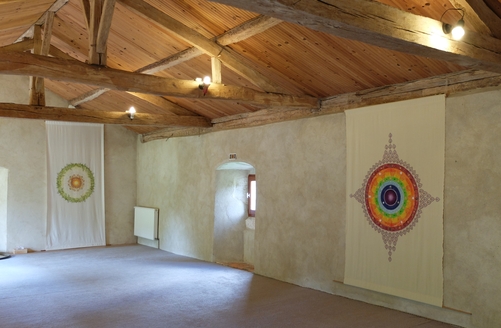 Access : train station Luçon. 3hrs30 from Paris
Car : Le Vieux Salydieu is 4hrs30 from Paris
Plane : Nantes
Christian et Martine PILASTRE . Le Vieux Salydieu
85320 BESSAY
00 33 (0)2 51 97 27 40